Movement and Meditation
with Jessica

Greenwood Lake Yoga — Greenwood Lake, NY
Sunday, January 29th
10:30AM - 11:30AM (1 hour)
This Class Already Happened
This class is suitable for all levels.

This class is focused on grounding and connecting to subtle body energy through a variety of different yogic techniques and ancient Chinese medicine techniques. Together, you will be guided through a 15-20 minute guided meditation centered on cultivating body awareness and a connection to your wise inner resource. This class will also incorporate a tapping segment where we tap on energetic meridian points to stimulate the flow of qi, or prana, throughout the body. Working to restore and cleanse the body of any dense energy will help your mind feel more clear and balanced and your nervous system more regulated. The remainder of the class will include a qi/yoga flow focused on gentle movements and stimulating the breath. If you are interested in deepening or even starting a more meditative authentic movement practice, this class is for you! Individuals who experience anxiety, some disconnection from the body, and a restless mind would also highly benefit from a class like this.

You are encouraged to bring your own mat and props. Mats and props are also available for purchase.
We strongly recommend you register in advance, class size is limited.
Cancellation and no-show policies will be strictly enforced.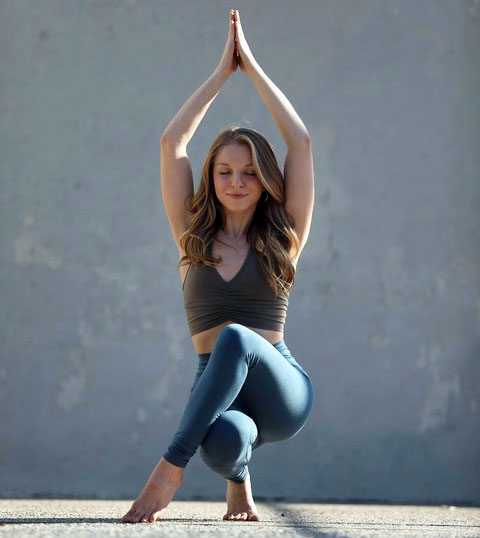 Jessica
Jessica aims to deliver classes that help intertwine a harmonious mental, physical, and spiritual aspect. After learning how yoga and pranayama practice helped restore her nervous system and balance severe anxiety and panic for the last 10 years of self-practice, she strives to help students feel comfortable in their bodies during any yoga practice she leads.
Jessica primarily teaches fast, energizing vinyasa flows that activate the solar plexus and increase personal confidence levels from the ground up. However, she also loves to balance the heat and intensity of flows by utilizing different forms of breath work and restorative asanas. Her goal is to complete each class with each student feeling more grounded, connected to each other and themselves, and empowered to take on a lead role in cultivating a life of rich meaning. All classes she teaches are delivered in English mixed with traditional Sanskrit cues, and for any Spanish speaking yogis in class, she has also picked up the language from her travels to Argentina, Colombia, and Peru and would love to help deepen the experience for you by integrating parts of the language in your practice together!
Jessica is currently working as a full-time yoga instructor around the Hudson Valley area and has committed her life thus far to helping people heal as a collective through movement and Ayurvedic lifestyle shifts. She received her 200 hour yoga teacher training through The Kaivalya Yoga Method Academy, led by Dr. Alanna Kaivalya in June 2020. She is also a certified yoga instructor through Yoga Alliance as of August 2020. Jessica plans to deepen her practice and the practice of her students by maintaining being an active member of the local yoga community and leading an authentic yogic, sustainable lifestyle off the mat. Through her classes, she loves to help her students feel a deeper connection to themselves and nature, and will often use guided imagery and short stories within her classes to create a loving and nurturing space for each soul that shows up.
To connect outside of class, you can find Jessica on Instagram
@sincerelyjessbuck
.
Cancelation Policy
Your account must have class credits or an active membership in order to register for a class online.
Class credits are deducted from your account immediately upon registration, and won't be available for use in person.
If you register with class credits and cancel your registration more than 4 hours before class you will receive your class credit back.
If you register with class credits and cancel your registration less than 4 hours before class you will

NOT

receive your class credit back.
If you have an unlimited membership, and do not show up or cancel less than 4 hours before class you will be assessed a $5 cancelation fee or lose a day of your membership (unlikely, and at the discretion of Greenwood Lake Yoga management).
Cancelation fees may be automatically drafted from your card on file (unlikely, and at the discretion of Greenwood Lake Yoga management).
If you are not checked in 5 minutes before class, your space may be given away to drop in customers waiting for room.